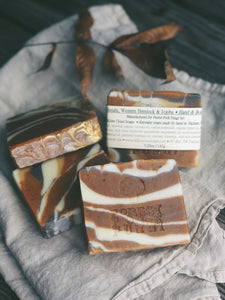 Expertly crafted, long lasting soap infused with the spirit of the forest.
Double-extracted wild reishi mushroom in a seawater, western hemlock and kelp base. Organic olive oil enhanced with jojoba and apricot kernel oils as well as mango butter create a creamy lather. An ode to reishi's striking red, orange, and white bands, this bar is pigmented with red and yellow Brazilian clays, annatto seed, alkanet root and a swirl of white mica.

The scent is alluring, woodsy, and resinous—a conifer forest-inspired essential oil blend of ho wood, cedar, fir and patchouli.
This 'ode-to-reishi' bar was created in collaboration with Billow Cloud Soaps, soap makers based in the small coastal town of Yachats, Oregon. Elizabeth incorporates ethically wildcrafted local ingredients from forest and ocean in her expertly crafted seawater soaps. This bar is a sensory delight.
Ingredients: Organic olive oil, seawater, organic coconut oil, sodium hydroxide, organic castor oil, mango seed butter, jojoba oil, apricot kernel oil, Brazilian clay, wild reishi mushroom (Ganoderma oregonense), essential oils of ho wood, cedar wood, fir needle, and patchouli, rosemary oleoresin, wild kelp (laminaria sinclairii)