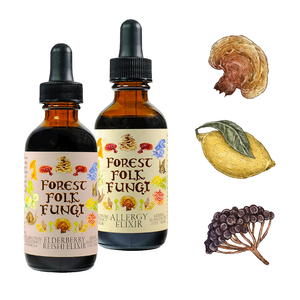 ALLERGY ELIXIR + ELDERBERRY REISHI ELIXIR
Looking for support during allergy season? Mushrooms are some of our favorite allies when it comes to balancing the overactive immune responses that cause itchy eyes and runny noses. In particular, reishi mushroom has been studied for its role in mediating histamine response. This formula helps bring back immune balance while gently drying up excess water and mucus. Ideally, begin taking this formula 6 weeks before allergy season begins.*
Ingredients: sustainably wildcrafted Hemlock Reishi mushroom (Ganoderma tsugae, organic Reishi mushroom (Ganoderma lucidum), sustainably wildcrafted Goldenrod (Solidago sp.), organic stinging Nettle (Urtica dioica), organic Elderflower (Sambucus nigra), raw honey, certified non-gmo cane spirits, wild spring water
To use: Take 1-2 dropperfuls 2-3 times daily for acute allergy symptoms. Take 1 dropperful per day preventatively. Do not give raw honey to babies younger than 1 year old.
2 oz / 60 mL
Elderberry Reishi: If you visit the forest home of the wise and kindly Gnome and Gnomestress, there's a good chance they'll offer you a taste of this ruby red elixir from their itty-bitty enchanted wooden spoon. Pairing elderberry and reishi mushroom with warmth-giving ginger and cinnamon, this tasty elixir is a daily immunity ally. How helpful to have this forest-floor remedy right in your cupboard!*
Ingredients: Organic elderberries, responsibly wildcrafted Hemlock Reishi mushroom (Ganoderma tsugae*), organic Reishi mushroom (Ganoderma lucidum), organic fresh Ginger, organic Cinnamon, organic Lemon, raw honey, certified non-gmo cane spirits, wild spring water
To use:  Take 1-3 dropperfuls 2-3 times daily. Do not give raw honey to babies younger than a year old.
2oz / 60mL
Our mushrooms are prepared using a pressurized dual extraction process.

All of our offerings are made in cooperation with foraged and organically grown fungi and plants. We wildcraft with deep respect for our fungal friends in the mountains of southern Appalachia. We hope you feel this integrity of spirit in each drop!
*These statements have not been evaluated by the FDA. This product does not intend to treat, diagnose, cure, or prevent any disease. For those who are pregnant, breastfeeding, or on any medications, please consult with a qualified health professional before beginning any new herbal products.